XMAS LOAN OFFER APPLY NOW WITH OUT STRESS $$$$$$
Hello Ladies/Gentlemen
Getting a legitimate loan have always been a huge problem To clients who have financial needs. The issue of credit and collateral are something that clients are always worried about when seeking a loan from a legitimate lender. But Owen Davidson Loan Company. has made that difference in the lending industry.Owen Davidson Loan Company has been accredited by the lender's council to give out loans to local and international clients at 2% rate . We have been given the privilege to meet your financial needs. The issue of credit shouldn't stop you from getting the loan that you need.
Our Services Include the Following:-
*Investors Loans
*Debt Consolidation
*Second Mortgage
*Business Loans
*Personal Loans
*International Loans
No social security and no credit check, 100% Guarantee. All you have to do is let us know exactly what you want and we will surely make your dream come true. Owen Davidson Loan Company, say yes when your banks say NO. Lastly, we fund small scale loan firm, intermediaries, small scale financial institutions for we have unlimited capital. For further details to go about procuring a loan from us: Kindly respond immediately to this
email::::owendavidsonloancompany1@gmail.com
You could as well contact us via ((+15208580660))
Loan Application Details
============================================================================
Name:
Address:
Loan Amount:
Loan duration:
Nationality:
Country:
State:
Monthly income:
Gender:
Age:
Marital Status:
Telephone:
occupation:
Purpose of Loan:
NOTE:You shall receive the loan conditions and terms once we received your
filled loan form so i look forward to hearing from you.
Best Regards
Mr Owen Davidson
Thanks…….
---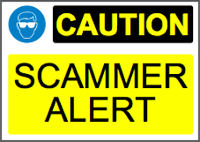 Scam alert! The message above is a SCAM. It's just another Nigerian scam, the story and all names & roles are fake. The scammers will most likely ask you for money upfront as 'costs' before you get the 'loan' (which you will never get offcourse).
This message was left as a comment spam on our site from Spain! Well.. thanks for reporting this scam.. Mr Owen Davidson!
If you've more information and/or received this message too please comment below. Describe how you got it (as an e-mail or comment? The message etc), thanks in advance!