Subject:
Тicket#610178469: [your@email.address] 25-04-2018 04:55:21 You were not clever
From:  

Prins Buchbinder <order@blockmagazine.com>

Date:  

2018-04-25

To:  
your@email.address
Good day.
Do not consider on my illiteracy, I am foreign.We uploaded our virus on your system.Now I pilfered all confidential info from your OS. Withal I got a little bit more evidence.The most important compromising that I have- its a videotape with your self-abusing.I installed deleterious soft on a porn site and then you loaded it. The moment you picked the video and tapped on a play button, my malicious software instantly downloaded on your device.
After downloading, your front-camera made the videotape with you masturbating, moreover malware captured precisely the video you chose. In next week my deleterious soft collected all your social and email contacts.
If you want to erase all the compromising evidence- send me 760 united state dollar in Bitcoins.
I provide you my Btc wallet address – 12KrhJnwCfL9Fqy7xktriqZGMpNJaDj6Cb
You have 20 h. to go after reading. When I see transaction I will eliminate the video forever. Otherwise I will forward the record to all your friends.
---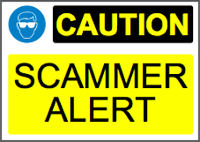 Scam alert! The E-mail above is a SCAM. It's an Extortion scam, the story is fake. The're hoping you did watch porn recently and are scared they really have a video of you. Aiming to prey on the embarrassment of the recipients. At the moment of writing luckely nobody has payed anything yet (click here to see the wallet's balance right now). But these aren't hackers whatsoever. They have nothing, it's just a spam message! NEVER pay them.
If you've received this by e-mail than mark it as SPAM (if possible) and/or DELETE it.
---
On March 6 another extortion spam was sended around, almost the same message but with a different Bitcoin wallet. Which seems still empty too! See the message below:
---
***Hello!
Do not pay attention on my English, Im from India.
We uploaded the virus onto your device.
At present I pilfered all private background from your OS. Additionally I received a little bit more then just data.
The most entertaining compromising which I thieftend- its a video with your wanking.
I set malicious software on a porn site and after you downloaded it. As soon as you decided with the video and tapped on a play button, my software at once loaded on your device.
After setup, your camera made the record with you self-abusing, in addition malware captured exactly the video you selected. In next week my deleterious soft collected all your social media and work contacts.
If you need to erase the records- send me 290 usd in Bitcoins.
It is my Bitcoin address – 1BHmCSTgRGLLpM7GowR125N6MARF6pT4v
You have 30 hours after reading. When I receive transaction I will eliminate the compromising permanently. Differently I will forward the video to all your colleagues and friends. ***