| | |
| --- | --- |
| Subject: | Reply |
| From:   | Jerry Coleman <jerry@giga.ocn.ne.jp> |
| Date:   | 2018-05-26 |
| To:   | |
| Reply-To:   | jery_cole55@yahoo.co.jp |
MR. JERRY.J COLEMAN (CEO) Aioi Diesel United, Ltd
Lloyds Wharf,
13 Mill Street,
London,
SE1 2BD.
Dear Representative,
Would you like to Work Online from home and get paid weekly? Aioi Diesel United, ltd needs a Representative, so I want to know if you will like to work Online from home and get paid weekly without leaving or affecting your present Job. I am Mr. Jerry J. Coleman the Chief Executive Officer in the Human Resource Dept of Japan's Diesel United, Ltd. A Japanese company with it's subsidiary here in london,UK.
We are the world leading ship engine manufacturer and suplier of piston, piston rod, engine propeller and Cylinder liners. We need Someone to work for the Company as a Representative in United State of America, Asia and Canada who shall be receiving payment from our major customers in these regions without affecting your JOB/Business. Our Company decided to employ you because of the difficulty we experience from our customers in the STATES, ASIA and CANADA who make their payments through cheque and it is difficult for our company to clear the cheques due to the different nature between our bank in Japan, Canada and America.
Base on trust and honesty as an American and Canadian citizen, we have to employ you as our Account Officer whom payment is made through to our company by sending cash into your account Or Draft/certified check which you will cash and pay into your account for clearance. Our valued customer in America and Canada who are now ready to pay but are complaining about the loss they have had and they are finding it difficult due to the nature of payment they prefers and this had made our company to lost money yearly either by spelling error of bank account information given to them or interception of our company's check paid by some of our customers in America and Canada, by unknown individual(s).
If you are interested in this offer to represent our company as as account officer, our company have agreed to give you 10% of every money payed to you either by transfer Or check as the case may be, our customers payment ranges from US$40,000 to US$1,000,000 these are customer who buy large engine for their ships and for those who buy minor equipment ranges from US$3,000 to US$20,000 Be informed that this offer does not affect your work and you are not spending any money for us rather we are to pay you 10% on every transaction depend on the amount our customer paid through you to the company.
AFTERWARDS THERE ARE LOT OF OTHER THINGS WE CAN DO TOGETHER THAT WILL FETCH YOU FORTUNE.
Best Regards,
Mr.Jerry J. Coleman.
Ceo:Human Resource Dept
Aioi Diesel United,Ltd.
---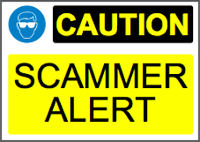 Scam alert! The E-mail above is a SCAM. It's just another Nigerian Job scam, the story and all names & roles are fake. The scammers will ask you for money upfront as 'costs' before you get the 'job' (which you will never get offcourse).
If you've received this by e-mail than mark it as SPAM (if possible) and/or DELETE it.