| | |
| --- | --- |
| Subject:   | Help Wanted |
| From:   | "Neva Brewster" <Neva@yahoo.co.uk> |
| Date:   | Fri, April 2, 2010 |
| To:   | your@email.address |
Welcoming speech
I am a representative of the HR department of a large international company. Our company has been working in different fields, such as:
– real estate
– companies setting-up and winding-up
– bank accounts opening and maintenance
– logistics
– private undertaking services
– etc.
We have vacancies to be filled by European residents only:
– salary 2.300 dollars + bonus
– 2-3 working hours per day
– flextime
If you would like to work with us, please provide us the following information:
Neva@europen-consalt.net
First Name:
Last name:
Country of living:
City
E-mail:
Phone:
Note! We are searching Europeans only!
Please mention your name and write the phone number. Our manager will contact you to fix an interview.
---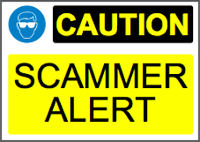 Scam alert! The E-mail above is a SCAM. It's a Nigerian scam, the story and all names & roles are fake. The scammers will ask you for money as 'costs' before you get the 'job' (which is fake offcourse).
If you've received this by e-mail than mark it as SPAM (if possible) and/or DELETE it.