| | |
| --- | --- |
| Subject:   | Open Positions |
| From:   | "Janie Painter" <Painter1978@sina.com> |
| Date:   | Sat, April 17, 2010 |
| To:   | your@email.address |
Hi,
West Union Group is searching for a European representative in order to satisfy the requests of our well respected costumer. To be welcome to our team you need to be a communicative person and to possess the skills in proper customer care.
We provide you with:
– Flexible schedule
– Good salary
– We pay-off all taxes for you
– Insurance
To obtain more information, please fill up the form below and send it to:
r e p l y 1 @ e u v a c a n t . c o m [please delete spaces in the email address before sending it to us]
First Name:
Last Name:
Country:
E-Mail:
Contact Number:
Best time to contact you:
Attached resume is preferable
Our operators will contact you and will assist all your questions.
Position available for European citizens only!
Best Regards HR Management of West Union Group
---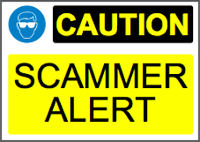 Scam alert! The E-mail above is a SCAM. It's a Nigerian scam, the story and all names & roles are fake. The scammers will ask you for money as 'costs' before you get the 'job' (which is fake offcourse).
If you've received this by e-mail than mark it as SPAM (if possible) and/or DELETE it.