Subject:

Congratulations

From:  

Coca-cola <noreply@Cocacola.com>

Date:  

2018-03-19

To:  
your@email.address
1 Queen Caroline Street
Hammersmith, London
W6 9HQ – United Kingdom .
To: 2018 Winter Prize Winner
I wish to inform you that we have completed the Coca-cola 2018 Winter prize draw and your e-mail address emerged as the lucky winner. You have won yourself a prize award payout sum of £1,000,000.00 (One Million Great Britain Pounds). This prize shall be paid to you by the Lloyds Bank of London.
We have arranged a claims agent who will help you with the claim of your prize award. His name is Dr. Steve and his contact details are below,
Name: Dr. Steve
Email: cocawinuk@hotmail.com
You are required to contact him immediately for guidelines on how
to receive this prize and also forward a copy of this letter to him via email for confirmation of your winning details. Please note that this email should be kept confidential as it contains your secret ticket number.
Congratulations once again.
Sincerely,
Mrs. Sharon Burrells
Prize Administrator
---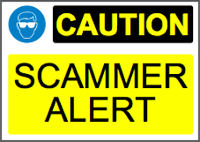 Scam alert! The E-mail above is a SCAM. It's a Nigerian Lottery scam, the story and all names & roles are fake. The real Coca Cola company has nothing to do with this! These scammers will most likely ask you for money upfront as 'costs' before you get the 'prize' (which you will never get offcourse).
If you've received this by e-mail than mark it as SPAM (if possible) and/or DELETE it.