We've seen mrs. Mavis Wanczyk's name being used by Nigerian scammers for donation scams before. This time they claim she's donating $5 million US dollars. Now the fact that this woman really is a multi-million US dollar lottery winner does NOT mean this email claiming to donate to random people is real whatsoever…
| | |
| --- | --- |
| Subject: | Congratulations …( Mon) |
| From:   | MAVIS WANCZYK <maviswacz223@gmail.com> |
| Date:   | 2018-04-23 |
| To:   |   |
| Reply-To:   | maviswan17@gmail.com |
CONGRATULATIONS YOU HAVE A DONATION OF $5,000,000 FROM MAVIS WANCZYK JACKPOT WINNER POWERBALL LOTTERY
Ref: 475061725
CODE NO: GB8701/LPRC
Dear E-mail User,
I am delighted to inform you that I am MAVIS WANCZYK 53, winner of the largest single lottery jackpot ever in the United States I won $758.7 million grand prize in Wednesday's Power Ball 24th august 2017.I wish to donate $5,000,000 out of my wining to you. I wish to change your life and nine other lives too just as mine was changed by winning the Powerball jackpot lottery
Mind you, this is not a regular circulation, IT IS NOT A HOAX OR A SCAM EMAIL IT IS REAL
http://ktla.com/2017/08/24/massachusetts-woman-claims-758-million-powerball-prize-largest-single-jackpot-in-u-s-history/
You might ask how and why I selected you it was by random email selection from google and i got your email address myself I just want to change your life too from my winning.
reply me with your acceptance if you wish to accept my donation to you
Thank you and Accept my congratulations once again!
Yours faithfully,
MAVIS WANCZYK
POWERBALL JACKPOT WINNER
---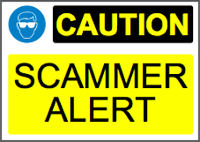 Scam alert! The E-mail above is a SCAM. It's a Nigerian Donation scam, the story about Mavis Wanczyk winning a lottery is real but this donation story is 100% fake. The real Mavis Wanczyk has nothing to do with this! They even write "IT IS NOT A HOAX OR A SCAM EMAIL IT IS REAL"! Yeah right… These scammers will ask you for more and more money upfront as 'costs' before you get the 'prize' (which you will never get offcourse).
If you've received this by e-mail than mark it as SPAM (if possible) and/or DELETE it.
---
Here is a news broadcast with the real Mavis Wanczyk of Chicopee, claiming the largest single ticket jackpot in American lottery history.