| | |
| --- | --- |
| Subject: | PLEASE KINDLY LET ME KNOW. |
| From:   | Mrs Doris Fernandez <dorisfernandez11959@yahoo.com> |
| Date:   | 2017-11-11 |
| To:   | |
| Reply-To:   | dorisfernandez11@hotmail.com |
Dear Sir/madam,
My name is Mrs Doris Fernandez I am 63 years old, I am a dying woman who have decided
to donate what I have to you/churches/ motherless babies/less privileged/widows. I was
diagnosed for cancer for about 2 years ago. I have been touched by God to donate from
what I have inherited from my late husband to you for good work of God. I have asked
God to forgive me and i believe he has, because he is a merciful God.
Please kindly let me know if you can assist me receive my funds and distribute to
charity of your choice.
i am willing to give you 20% out of $USD20million for you help.
please reply me with my private email: dorisfernandez12017@hotmail.com
Your sister,
Mrs Doris Fernandez.
---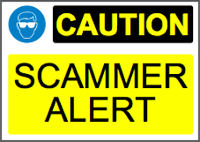 Scam alert! The E-mail above is a SCAM. It's a Nigerian Money scam, the story and all names & roles are fake. The scammers will most likely ask you for money upfront as 'costs' before you get the 'funds' (which you will never get offcourse).
If you've received this by e-mail than mark it as SPAM (if possible) and/or DELETE it.