| | |
| --- | --- |
| Subject: | Your Winning Code:WINMMJAT |
| From:   | Mrs. Mavis Wanczyki <mario.ortega469@mppre.gob.ve> |
| Date:   | 2018-01-19 |
| To:   | your@email.address |
| Reply-To:   | mrsmavis36@gmail.com |
Hello,
I'm Mrs. Mavis Wanczyk the mega winner of $758 Million in Mega Millions Jackpot, I'm donating to 5 random individuals if you get this email then your email your@email.address was selected after a spin ball. I have spread most of my wealth over a number of charities and organizations. I have voluntarily decided to donate the sum of $2 Million USD to you as one of the selected 5, to verify my winnings please see my you tube page below.
WATCH ME HERE: www.youtube.com/watch?v=7kWnqvJM1mM
THIS IS YOUR DONATION CODE: [AUG2317]
Hope to make you and your family happy.
Regards
Mrs. Mavis L. Wanczyk
---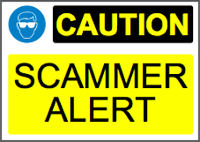 Scam alert! The E-mail above is a SCAM. It's a Nigerian scam, the story and name is real, you can see the real Mavis Wanczyk of Chicopee in the video below, but she has nothing to do with this fake donation scam. The scammers will most likely ask you for money upfront as 'costs' before you get the 'donation' (which you will never get offcourse).
If you've received this by e-mail than mark it as SPAM (if possible) and/or DELETE it.