| | |
| --- | --- |
| Subject: | Financial Investment |
| From:   | Mr.Art Hall <felipe@conectaprovedor.com.br> |
| Date:   | 2017-10-22 |
| To:   | Recipients <felipe@conectaprovedor.com.br> |
| Reply-To:   | mrarthall1@gmail.com |
Hello Good morning
Do you have any project or an on going project which requires funding?
Please I need your help in claiming an abandoned fund I discovered in our Bank.The account is dormant and non operational for 10 calendar years.We stand to gain immensely on the successful completion of this mutual undertaking.This business opportunity guarantee's you 30% of $3.5 Million USD .
I intend to reinvest this fund by putting it into the management of project owners,entrepreneurs with good business ideas and viable projects that can generate healthy return on investment.This fund cannot be paid into my bank account since I am still in active service,hence the need for your assistant.
We shall discuss about investing the fund, probably in your area of business or something lucrative either home or abroad. But you must keep this correspondence to yourself because of my position . Kindly indicate your interest in assisting me in this venture.I will send you more details on how we proceed .
Kindly reply as soon as possible.
Best regards,
Mr.Art Hall
---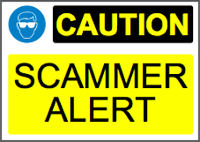 Scam alert! The E-mail above is a SCAM. It's a Nigerian Money scam, the story and all names & roles are fake. The scammers will most likely ask you for money upfront as 'costs' before you get the 'funds' (which you will never get offcourse).
If you've received this by e-mail than mark it as SPAM (if possible) and/or DELETE it.