| | |
| --- | --- |
| Subject: | GET BACK TO ME |
| From:   | Alice Louise Walton <alicelouise_walton@senet.com> |
| Date:   | 2016-10-15 9:13 |
| To:   | |
| Reply-To:   | alicelouise_walton@aol.com |
My name is Alice Louise Walton USA , I am an American heiress to the fortune of Wal-Mart Stores, Inc . I want to send you some money for Charity work, to help me buy items and visit orphanage/homeless children in your State on my behalf. Can you do it for me?
Get back to me so that i will send you the money to help take care of the needy.
God bless you
Alice Louise Walton.
---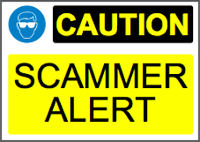 Scam alert! The E-mail above is a SCAM. It's a Nigerian scam, the story and all names & roles are fake. The scammers will ask you for money as 'costs' before you get the 'charity funding' (which you will never get offcourse).
If you've received this by e-mail than mark it as SPAM (if possible) and/or DELETE it.