| | |
| --- | --- |
| Subject: | Hello There.. |
| From:   | Ambassador Stuart Symington <irving.gil@fideicomisoed.cdmx.gob.mx> |
| Date:   | 2018-03-01 |
| To:   | Recipients <irving.gil@fideicomisoed.cdmx.gob.mx> |
| Reply-To:   | stuartsymington17@gmail.com |
Embassy of the United States of America
Plot 1075 Diplomatic Drive
Central District Area, Abuja.
CHECK HERE VIEW MY DATA: https://en.wikipedia.org/ wiki/W._Stuart_Symington_( diplomat)
Attention
THIS IS Ambassador Stuart Symington Ambassador to Nigeria. I SHALL BE COMING TO YOUR COUNTRY FOR AN OFFICIAL MEETING ON TUESDAY NEXT WEEK BEEN 28TH OF FERUARY 2018 AND I WILL BE BRINGING YOUR FUNDS THROUGH AN ATM MASTER CARD OF( $5 Million United State Dollars) ALONG WITH ME BUT THIS TIME I WILL NOT GO THROUGH CUSTOMS OR ANY AUTHORITY TO DELIVER YOUR ATM MASTER CARD BECAUSE AS AN AMBASSADOR TO NIGERIA, I AM A US GOVERNMENT AGENT AND I HAVE THE VETO POWER TO GO THROUGH CUSTOMS. AS SOON AS I AM THROUGH WITH THE MEETING I SHALL THEN PROCEED TO YOUR ADDRESS. (SEND YOUR CELL PHONE NUMBER AND THE ADDRESS WHERE YOU WANT ME TO BRING THE PACKAGE).
YOU HAVE REALLY PAID SO MUCH IN THIS DELIVERY THAT MAKES ME WONDER. YOU ARE A VERY LUCKY PERSON BECAUSE I SHALL BE BRINGING IT MYSELF AND THERE IS NOTHING ANYONE CAN DO ABOUT IT. CHECK HERE: https://en.wikipedia.org/ wiki/W._Stuart_Symington_( diplomat)
THERE IS ABSOLUTELY GOING TO BE GREAT DOUBT AND DISTRUST IN YOUR HEART IN RESPECT TO THIS EMAIL COUPLED WITH THE FACT THAT SO MANY MISCREANTS AND IMPOSERS (SCAMMERS) HAVE TAKEN POSSESSION OF THE INTERNET TO FACILITATE THEIR NEFARIOUS DEEDS, THEREBY MAKING IT EXTREMELY DIFFICULT FOR GENUINE AND LEGITIMATE BUSINESS CLASS PERSONS TO GET ATTENTION AND RECOGNITION
YOUR PACKAGE( $5 Million United State Dollars) MUST BE REGISTERED AS AN AMBASSADORIAL PACKAGE FOR ME TO DEFEAT ALL ODDS AND THE COST OF REGISTERING IT IS $150 THE FEE MUST BE PAID IN THE NEXT 50 HOURS VIA WESTERN UNION SO THAT ALL NECESSARY ARRANGEMENT CAN BE MADE BEFORE TIME WILL BE AGAINST US.
YOU SHOULD SEND THE FEE DIRECTLY TO THE CARGO REGISTRATION OFFICER WITH THE INFO BELOW-
Receiver Name; John Wale
Address: Lagos,Nigeria
amount …$150
MTCN:……………
AS SOON AS YOU SEND THE FEE MAKE SURE YOU SEND ME THE PAYMENT INFORMATION. MY FLIGHT IS TUESDAY AND I EXPECT YOU TO COMPLY BEFORE THEN SO THAT THE DELIVERY CAN BE COMPLETED. IF YOU DO NOT COMPLY, THEN IT WILL NOT BE MY FAULT IF YOU DO NOT RECEIVE YOUR PACKAGE.
SIGN
Ambassador Stuart Symington
CHECK HERE VIEW MY DATA: https://en.wikipedia.org/ wiki/W._Stuart_Symington_( diplomat)
TELEPHONE 2347065461542
—
This email has been checked for viruses by Avast antivirus software.
https://www.avast.com/antivirus
---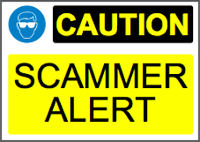 Scam alert! The E-mail above is a SCAM. It's a Nigerian ATM CARD scam, the story and all names & roles are fake. The real Stuart Symington doesn't have anything to do with this. So funny to see that in the actual Wikipedia page they mention (about the real Ambassador) it states "After his posting to Nigeria, his name has been used by Nigerian 419 scammers as part of their attempts to con people into giving away money." It doesn't get any clearer than this folks! Also I think the scammer forgot to change the date in his fantasy story (when probably re-sending the same message); Why announcing on March 1 that you will come to visit a day in the past?! Anyway, the scammers will ask you for money upfront as 'costs' before you get the 'funds' (which you will never get offcourse).
If you've more information and/or received this message too please comment below. Describe how you got it (as an e-mail or comment? The message etc), thanks in advance!