| | |
| --- | --- |
| Source: | Can You Assist Me.??? |
| From:   | Col. Hussein Harmush <cs@4jovem.com> |
| Date:   | 2018-04-20 |
| To:   | Recipients <cs@4jovem.com> |
| Reply-To:   | colhusseinharmuchccj@gmail.com |
Dear Friend,
My name is Col. Hussein Harmush, An Army officer from Syria but now living with the United Nations on asylum in Canberra city of Australia. I got your contact from a Syrian – American Army officer who was critically injured in the ongoing bloody civil war in Syria but died last week while receiving medical treatment. I want to seek your assistance in the following ways:
(1). To assist me look for a profitable business opportunity in your country where I can invest to sustain my living until the ongoing civil war and political crisis in my country (Syria) is over.
(2). To assist me purchase a living home in your country, I have a sum of $5,000,000.00 USD (Five Million United States Dollars Only) with a financial institution in London. Should there be any need for evidence, or a proof of my seriousness and genuineness of this business opportunity, I have a Certificate of Deposit as a proof of fund for your confirmation.
Please kindly assist me to receive this $5,000,000.00 USD in your personal bank account to enable me come over to your country with my family for resettlement and onward investment. I will compensate you greatly for this help. I am also ready to associate with a local partner in your country provided your Government will grant me a Residence Permit after the funds hits your nominated Bank account. Could you please send me an email response to confirm receipt of this business proposal. Also kindly promise me that you will never betray me and my family after assisting us to claim this fund from the Bank in London. Thank you and may Allah bless you!
Thanks and Regards,
Col. Hussein Harmush.
Canberra Australian Capital.
E-mail: colhusseinharmuchccj@gmail.com
---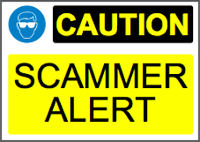 Scam alert! The E-mail above is a SCAM. It's a Nigerian Money scam, the story and all names & roles are fake. If something is too good to be true… it usually is! The scammers will ask you for money upfront as 'costs' before you get the 'funds' (which you will never get offcourse).
If you've received this by e-mail than mark it as SPAM (if possible) and/or DELETE it.