| | |
| --- | --- |
| Subject: | RE: Assistance Needed – your@email.address |
| From:   | Mary Manto <mmcool002@yahoo.com> |
| Date:   | 2018-06-11 |
| To:   | your@email.address |
| Reply-To:   | mmcool001@yahoo.com |
Hello your@email.address,
I got your contact in my searching of a good reputation foreign partner to assist me in my late husband properties. My late husband was former district leaders of the diamond city and executive member of the Diamond Mining Association in my region.
Before his death, he explained to me that he deposited two trunk boxes contain sum of US$18.2 Million in a Security Company, I had called the Security Company and it was confirmed that the boxes are intact but right I am disable and I cannot even travel because of my present health predicament.
I decide to solicit for your assistance to help me and my son to invest these funds on our behalf the sum of US$18.2 Million and to sell 50kg of Gold Alluvial Dust in your country after claim from the security company for us and invest the total funds in your Business Venture for a long term and pay us monthly on an agreeable term to be worked out later.
Our lives and future of my son depends on these funds and as such, I will be grateful if you can assist us. I am seeking your assistance to invest this fund out of Africa for investment purpose.
I want you to come on board to help me clear these assets from the deposit company, open an account on your name, and transfer the funds to your designated account in your country because i want to empower you for this transaction so that you have rightful power to negotiate this transaction as my rightful representative.
Why I also want you is that my husband specifically put it in his will and advise me that I must consult a foreign partner to assist me to move the funds and the gold, I think it was for my safety so that I would not lost the assets to my government, as this is the assets left for me and my son.
What I demanded from you is to assure me the safety of these assets when it finally gets to you. Further information and arrangement will commence as soon as trust, confidence and good relationship is established. I shall be most grateful if you could maintain this high level of confidentiality I repose on you concerning this matter.
My health is not in decent shape because am hypertension patient and I need your help as quick as you can come to my aid. Please response as soon as possible so that I can send all the deposition documents to you and you can get in touch with the security company for inquiry on how to proceed on my behalf.
Thanks for your personal consideration.
Yours,
Mary Manto
---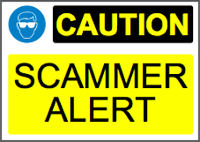 Scam alert! The E-mail above is a SCAM. It's a Nigerian Money scam, the story and all names & roles are fake. These scammers will ask you for more and more money upfront as 'costs' to receive these truck boxes from this fake security company (which you will never get offcourse).
If you've received this by e-mail than mark it as SPAM (if possible) and/or DELETE it.