| | |
| --- | --- |
| Subject: | Attention Unpaid Beneficiary |
| From:   | FROM CENTRAL BANK OF NIGERIA <admin@t5english.com> |
| Date:   | 2017-12-29 |
| To:   | |
| Reply-To:   | central_bnk02@outlook.com |
Hello Dear,
I have registered your ATM Compensation CARD of US2.5m with DHL BASIC
Courier Company here in Abuja Nigeria with registration Shipment Code
of ­(AWB 33X5ZS),
please Contact them immediately by reconfirming your delivery
information such as, Your Full Name, Your Receiving Address and Your
Direct Telephone Number to (central_bnk02@outlook.com)
address to Dr Godwin Emefiele.
Then Let me know once you receive your ATM CARD from them, Remember
the only money you will pay them is their delivery fee.
Best Regards,
Thanks from
Mr.Duru williams
—
This email has been checked for viruses by Avast antivirus software.
https://www.avast.com/antivirus
---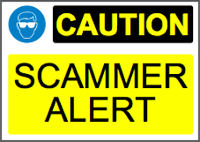 Scam alert! The E-mail above is a SCAM. It's a Nigerian scam, the story and all names & roles are fake. The scammers will most likely ask you for money upfront as 'costs' before you get the 'funds' (which you will never get offcourse).
If you've received this by e-mail than mark it as SPAM (if possible) and/or DELETE it.