| | |
| --- | --- |
| Subject:   | Next of Kin Claim |
| From:   | "Larry Johnson" <larryjohnson116@yahoo.com> |
| Date:   | Sa, March 6, 2010 |
| To:   | undisclosed-recipients:; |
Attention,
I am Barrister Larry Johnson; solicitor and advocate. I have a client who died with his wife and their only son in a car accident.
My client Bank has issued me a notice to provide the next of kin or have the account confiscated within the next fourteen official working days. As at the time of his demise I was not aware.
My client, who was operating a domiciliary account, since his demise we have been searching for his relatives but our search all these years has proved unsuccessful and this has made it impossible for us to notify any of his relatives. Due to the admonition from the Bank to close his account, I have decided to contact you essentially because of the piece of evidence that you share the same last name as my client. Regardless of the fact that you are a direct, indirect or non relative, I can legally process and present as the next of kin, even if you don't have same surname we can make a sworn affidavit of claim to make you the bona fide next of kin
My main objective is to try and seek your cooperation, consent so that I can present you as the next of kin. By doing this, you are entitled to his proceed valued at £12,540,000.00 Million Pounds left behind by my client before they get confiscated or declared serviceable by the share holders of this Bank.
As soon as I receive an acknowledgment of your acceptance, I will furnish you with the necessary modalities of the transaction. I assure you that this transaction is 100% risk free, and as soon as we succeed in getting this funds to your account, The money will be shared on a 50, 50 basis…………… I guarantee that this will be executed under a legitimate arrangement that will protect you from any breach of the law. I have information of my client that will be used to prepare any relevant legal documentation for this claim.
If still interested, please send me your information in the order below to enable me prepares the application letter to send to the Bank to apply for the claim of the funds.
Full Names:
Contact Address:
Age:
Occupation:
Tel:
Fax:
I am waiting to hear from you soon. Reply to my private email.larryjohnson1129@yahoo.com
Best regards,
Larry Johnson
---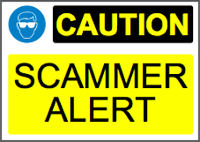 Scam alert! The E-mail above is a SCAM. It's a Nigerian scam, the story and all names & roles are fake. The scammers will ask you for money as 'costs' before you get the 'inheritance' (which you will never get offcourse).
If you've received this by e-mail than mark it as SPAM (if possible) and/or DELETE it.