| | |
| --- | --- |
| Subject: | Re:Van Hans Advocaten |
| From:   | Van Hans Advocaten <vanhansadvocaten@gmail.com> |
| Date:   | 2017-09-08 |
| To:   | |
| Reply-To:   | vanhansadvocaten@mynet.com |
Hi Dear,
I have a business proposal for you.
If you are interested, send me your names and telephone number and I shall give you further details.
I like to hear from you soon.
Best regards,
Van Hans
Van Hans Advocaten
vanhansadvocaten@mynet.com
vanhansadvocaten@gmail.com
vanhensadvocaten@consultant.com
---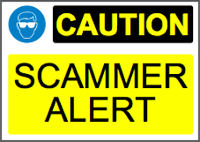 Scam alert! The E-mail above is a SCAM. "Advocaten" is Dutch for Lawyers. But all names & roles are fake, it's a Nigerian scam. The scammers will most likely ask you for money upfront as 'costs' before you get whatever 'business proposal' they will promise (which will never happen offcourse).
If you've received this by e-mail than mark it as SPAM (if possible) and/or DELETE it.