| | |
| --- | --- |
| Subject: | CASH PRIZE |
| From:   | western canada lottery <OFFICEFREELOTTO5@yandex.com> |
| Date:   | 2017-11-15 |
| To:   | |
| Reply-To:   | OFFICEFREELOTTO@yandex.com |
Dear eMail owner,
Your eMail has been selected for a prize
revert for detail information which entails official
transcripts towards procurement process for
remittance.
In Services, Western Canada Lottery Corporation.
---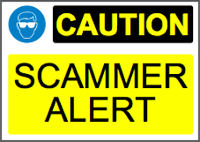 Scam alert! The E-mail above is a SCAM. It's a Nigerian Lottery scam. The WCLC (Western Canada Lottery Corporation) has nothing to do with this and how likely do you think they operate under a free Russian e-mail service… Because it's FAKE! The scammers will most likely ask you for money upfront as 'costs' before you get the 'prize' (which you will never get offcourse).
If you've received this by e-mail than mark it as SPAM (if possible) and/or DELETE it.