| | |
| --- | --- |
| Subject:   | Attn: Beneficiary, From Central Bank of Nigeria (CBN) |
| From:   | "Central Bank of Nigeria" <support@bankrolltuning.com> |
| Date:   | Fri, April 9, 2010 |
| To:   | undisclosed-recipients:; |
Attn: Beneficiary,
Ref: FGN-WB/SV99-2010
My name is Mr. Sanusi Lamido Sanusi, I am the new governor of the Central Bank of Nigeria (CBN). I write you in connection to your inheritance payment valued at usd $17,500,000.00 (Seventeen million, Five hundred thousand United States dollars only). The said sum is an inheritance left for you by a relative of yours.
I write to let you know that as the new governor of the Central Bank of Nigeria, I have taken over the issue of your inheritance payment of the said sum. You are hereby strongly advised in your own best interest to desist from any dealings with any other official/agency in connection with the said payment. If you defy my advice/orders, then you will be doing so at your own risk because you will only waste your time and hard earned funds and you will NEVER EVER receive a dime of your inheritance funds. Get back to me immediately so that I as the governor of the CBN in charge of all payment can personally process your transfer and wire your usd $17,500,000.00 inheritance funds left for you by Mr. James Henderson to your nominated bank account.
You can reach me on my direct mobile number: 234- 807 422 3136 for further discussion.
I will expect your soonest response,
Yours Faithfully,
Mr.Sanusi Lamido Sanusi.
Governor,(CBN)
HEAD OFFICE – ABUJA Office Address: Zaria Street, Abuja
Postal Address: P.M.B 0187, Garki Abuja.
Tel: 234-807 422 3136
Email: governor.cbn@centralebankofnigeria.org
Email: governoroffice.cbn@globomail.com
---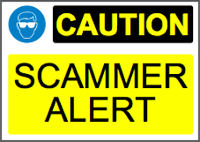 Scam alert! The E-mail above is a SCAM. It's a Nigerian scam, the story and all names & roles are fake. The scammers will ask you for money as 'costs' before you get the 'inheritance' (which you will never get offcourse).
If you've received this by e-mail than mark it as SPAM (if possible) and/or DELETE it.