| | |
| --- | --- |
| Subject: | MY DONATION |
| From:   | Karima Alwaad <khansiammar@sapo.pt> |
| Date:   | 2017-09-02 |
| To:   | your@email.address |
| Reply-To:   | mrskarimawad@gmail.com |
Another (alternative) version:
| | |
| --- | --- |
| Subject: | Thanks For Your Reply |
| From:   | Karima Alwaad <cesep@cesep.com.br> |
| Date:   | 2017-09-04 |
| To:   | your@email.address |
| Reply-To:   | mrsalwaad@outlook.com |
Dear Beloved One,
My name is Madam Karima Al-Waad, widow to late Maan Abdul Wahed Al-Sanea owner of major construction and oil companies in my country. I am suffering from long time Cancer of the breast. From all indications my condition is really deteriorating and it's quite obvious that I won't live more than 3 months according to my doctors.
This is because the cancer stage has gotten to a very bad stage. I don't want your pity but I need your trust. My late husband died from Heart attack, and during the period of our marriage we produce two kids that died last year in auto crash.
My late husband was very wealthy and after his death, I inherited some his businesses and wealth as the second wife without a child, now the family members are praying for me to die quick so that they will take over the money, this is one of the reasons why i decided to donate this funds to the charities. The doctor has advised me that I will not live for more than 3 months ,so I have now decided to spread all my wealth, to contribute mainly to the development of charity in your country .
Am sorry if you are embarrassed by my mail. I found your e-mail address in the web directory, and I have decided to contact you, but if for any reason you find this mail offensive, you can ignore it and please accept my apology.
Before my late husband died he was major oil tycoon in our country Saudi Arabia and he deposited some amount of money with a finance house, that money is all I have now, I need you to collect this funds and distribute it yourself to charity .so that when I die my soul can rest in peace.
The funds will be entirely be in your hands for management. I hope God gives you the wisdom to touch many lives, that is my main concern and my dying wishes which I want you to respect.
20% of this money will be for your time and effort, while 80% goes to charity.
You can get back to me via my private e-mail: (kalwaad@yahoo.com)
Thanks and have a blessed day.
Mrs. Karima Alwaad
---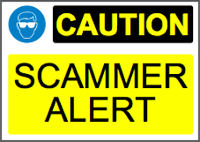 Scam alert! The E-mail above is a SCAM. It's a Nigerian scam, the story and all names & roles are fake. The scammers will most likely ask you for money upfront as 'costs' before you get the 'funds' (which you will never get offcourse).
If you've received this by e-mail than mark it as SPAM (if possible) and/or DELETE it.