| | |
| --- | --- |
| Subject: | Funding!! |
| From:   | Dr Mohd Al Safar <drmohdals@gmail.com> |
| Date:   | 2017-09-09 |
| To:   | Me |
Salaam,
I am writing from Investment company in dubai.We are expanding our investment presence by granting loan as debt to fund projects outside UAE and to all viable and lucrative sectors at 4% interest per annum with up to 15 years repayment plan with 1 year grace period.
Are you looking for fund for large investment projects, commercial real estate, small business enterprises and government contracts, etc or If you have a project that needs funding, kindly revert to me via e-mail (drmohdalsafar@gmail.com)
Best Regards
Dr Mohd Al Safar
drmohdalsafar@gmail.com
---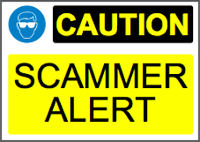 Scam alert! The E-mail above is a SCAM. It's a Nigerian loan scam, the story and all names & roles are fake. The scammers will most likely ask you for money upfront as 'costs' before you get the 'loan' (which you will never get offcourse).
If you've received this by e-mail than mark it as SPAM (if possible) and/or DELETE it.