| | |
| --- | --- |
| Subject: | From Mrs. Angela Lopez, |
| From:   | Mrs. Angela Lopez <admin@bemuga-group.com> |
| Date:   | 2016-11-07 |
| To:   | |
| Reply-To:   | mrs.angelalopez15@gmail.com |
Dear beloved,
I am Mrs. Angela Lopez from Korea.I was married to late Engr. Fraiser Lopez,who worked for Twenty-Six years in an oil firm before he died in the year 2004 after a brief illness that lasted only few days.on his departure from earth he deposited the sum of US$10.5 M in a firm here. Due to my ill and deteriorating health that has choked me to have made me loose so much strength without no guarantee or hope of surviving (Cancer of the Lungs),my Doctor told me that my chances of living on earth are so limited to live than i required due to my health condition. and now I am looking forward to a reliable someone that will reach out to the world with this fund by using it to touch the lives of the orphanage,homes,and every charitable works with humility.
I will tell you more secret about the treasure when i read from the person.
Mrs. Angela Lopez
—
This email has been checked for viruses by Avast antivirus software.
https://www.avast.com/antivirus
---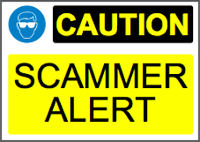 Scam alert! The E-mail above is a SCAM. It's a Nigerian scam, the story and all names & roles are fake. The scammers will most likely ask you for money upfront as 'costs' before you get the 'funds' (which you will never get offcourse).
The fact that this e-mail has a "checked for viruses" signature from Avast antivirus does not mean it isn't a scam! (This antivirus signature could also be faked, but this is irrelevant.)
If you've received this by e-mail than mark it as SPAM (if possible) and/or DELETE it.