| | |
| --- | --- |
| Subject: | God Bless. |
| From:   | Ivan Tatiana <ssd@dndz.gov.ua> |
| Date:   | 2017-11-07 2:59 |
| To:   | inbox <ssd@dndz.gov.ua> |
| Reply-To:   | ivan.titiana@mail.ru |
Greetings to You. My name is Mrs. Ivan Tatiana. I am 59
years old and I was diagnosed for cancer two years ago. I will be
going in for an operation later today. I decided to WILL/donate a
huge amount to you for the good work of the lord please Contact my
barrister, Barrister Michael Lynn (bmichlynn90@consultant.com)
Phone: (+442033222720) Tell him that I have WILLED $14.258M to
you by quoting my personal reference number
(UKL/FBF1952). God Bless.
---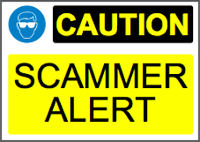 Scam alert! The E-mail above is a SCAM. It's a Nigerian Money scam, the story and all names & roles are fake. The scammers will most likely ask you for money upfront as 'costs' before you get the 'inheritance' (which you will never get offcourse).
If you've received this by e-mail than mark it as SPAM (if possible) and/or DELETE it.