| | |
| --- | --- |
| Subject:   | GREETING IN THE NAME OF OUR LORD. |
| From:   | "mrs" <samue@nospam.onet.pl> |
| Date:   | Sun, March 21, 2010 |
| To:   | undisclosed-recipients:; |
GREETING IN THE NAME OF OUR LORD.
I AM MRS.ANNA JONSON, A WIDOW TO LATE ELLIS JONSON .FROM SEATTLE WASHINGTON,USA.PRESENTLY IN MADRID SPAIN, RECEIVING TREATMENTS, I AM 61 YEARS OLD, I AM NOW A NEW CHRISTIAN CONVERT, SUFFERING FROM LONG TIME CANCER OF THE BREAST,FROM ALL INDICATION MY CONDITIONS IS REALLY DETERIORATING AND IT IS QUITE OBVIOUS THAT I WON'T LIVE MORE THAN SIX MONTHS, ACCORDING TO MY DOCTORS,THIS IS BECAUSE THE CANCER STAGE HAS GOTTEN TO A VERY BAD STAGE.
MY LATE HUSBAND KILLED DURING THE U.S. RAID AGAINST TERRORISM IN AFGHANISTAN, AND DURING THE PERIOD OF OUR MARRIAGE WE COULDN'T PRODUCE ANY CHILD.
MY LATE HUSBAND WAS VERY WEALTHY AND AFTER HIS DEATH, I INHERITED ALL HIS BUSINESS AND WEALTH.
THE DOCTORS HAS ADVISED ME THAT I MAY NOT LIVE FOR MORE THAN SIX MONTHS, SO I NOW DECIDED TO DIVIDE THE PART OF THIS WEALTH, TO CONTRIBUTE TO THE DEVELOPMENT OF THE CHURCH IN AFRICA, AMERICA ASIA, AND EUROPE. I PRAYED OVER IT,. I AM WILLING TO DONATE THE SUM OF 5.6,000.000.00 US DOLLARS, TO THE LESS PRIVILEGED. PLEASE I WANT YOU TO NOTE THAT FUND IS LYING IN A SECURITY COMPANY IN USA.
LASTLY, I HONESTLY PRAY THAT THIS MONEY WHEN TRANSFERRED WILL BE SURE FOR THE SAID PURPOSE, BECAUSE I HAVE COME TO FIND OUT THAT WEALTH ACQUISITION WITHOUT CHRIST IS VANITY.
MAY THE GRACE OF OUR LORD JESUS THE LOVE OF GOD AND THE FELLOWSHIP OF GOD BE WITH YOU AND YOUR FAMILY I AWAIT URGENT REPLY.
THANKS.
MRS.ANNA JONSON.
---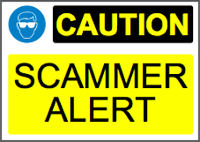 Scam alert! The E-mail above is a SCAM. It's a Nigerian scam, the story and all names & roles are fake. The scammers will ask you for money as 'costs' before you get the 'inheritance' (which you will never get offcourse).
If you've received this by e-mail than mark it as SPAM (if possible) and/or DELETE it.