| | |
| --- | --- |
| Subject: | Hello your@email.address……Mutual Transaction. |
| From:   | ENG. HENRY NOAH <admin@lee.org> |
| Date:   | 2018-04-08 |
| To:   | your@email.address |
| Reply-To:   | eng.henry.noah@gmail.com |
Hello your@email.address,
I know this Letter will come to you as a surprise, though I do not intend to embarrass you. Let me start by formally introducing My self to you. I am Enigeer Henry Noah, a personal contractor to late Mr.Adolf , a German who died in a tragic motor accident by running into a stationery Trailer without warning sign on December 26 , 2006 in London.

I have contacted you to assist in repatriating the fund valued at ($7,200,000.00) Seven Million Two Hundred Thousand United States Dollars, left behind by my client before it gets confiscated or declared unserviceable by the Bank where this huge amount was deposited.

The said Bank has issued me a notice to provide the next of kin or have his account confiscated within the next twenty one official working days. Since I have been unsuccessful in locating the relatives, I seek the consent to present you as the next of kin to the deceased since you have the same last names, so that the proceeds of this account can be paid to you.

Therefore, on receipt of your positive response, we shall then discuss the sharing ratio and modalities for transfer.

I have all necessary information and legal documents needed to back you up for claim.

All I require from you is your honest cooperation to enable us see this transaction through. I guarantee that this will be executed under legitimate arrangement.

I look forward to receive your response.I will send you my mobile number if you don't mind.

Regards,
Engineer Henry Noah
Email: eng.henry.noah@gmail.com
---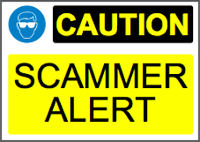 Scam alert! The E-mail above is a SCAM. It's a Nigerian Money scam. The story and all names & roles are fake. These scammers will ask you for (more and more) money upfront as 'costs' before you get the 'funds' (which you will never get offcourse).
If you've received this by e-mail than mark it as SPAM (if possible) and/or DELETE it.