| | |
| --- | --- |
| Subject: | YOUR PAYMENT UPDATE |
| From:   | "Mrs Veronica Brown"<alrajk@sezampro.rs> |
| Date:   | Sun, 5 May 2019 |
| To:   | |
| Reply-To:   | veronicanbrown29@gmail.com |
Dear Friend,
The Federal government of Nigeria published in the official gazette
last time, mandating the African Development bank in collaboration with
the World Bank Regulatory Authority to offset all debts emanating from
contracts executed by foreign contractors and files of next-of-kins
submitted for payments.
Some Next-of-kin/contractors funds were attempted to be diverted by
some individuals. Other cases are imposition of illegal charges on
next-of-kin/contractors, invitation to overseas for claims of funds
without success, incessant payment of fees one after another
endlessly, impersonation and other corrupt practices that pose to
dissatisfy beneficiaries thereby causing confusion among them,
subjectivity to bankruptcy and total mislead.
Some beneficiaries are in the nets of impostors unknowingly and act on
their instructions to forward any message to them received by
beneficiaries, using it as a weapon against beneficiaries and
awareness of payment procedure we embark on, and then plan more to
win the hearts for their own selfish desires. It is a pity!.I am a
British Citizen and was posted here from the African Development bank
through the world bank to quietly pay the affected beneficiaries but
what i have discovered here so far is a bad omen.
I have discovered that you are one of the victims of this
circumstance because the settlement of your due fund through the right
link is not supposed to exceed 10 bank working days but has taken
months and years, Yet you have not questioned the integrity of those
you were dealing with. This message is to exonerate you from total
mess and pay you your due fund and interest through the AFDB without
you undergoing payment of fees one after the other.
Fraudulent activities by some government officials and their cohorts
in Nigeria and some African countries are like terrorists these days.
They fax/email unauthenticated documents to beneficiaries and emails
to deceive,extort and cover the right link of easy receipts of funds
against bonafide beneficiaries.
INFORMATION: Any genuine document from authorized office must bear
government code number. These include Payment Approval and Remittance
advice.We need your bank details and address for this quiet payment
exercise but not through any Nigerian bank because they are criminals.
Conclusively, any well thinking Next-of-kin/ Contractor should know
that payments demand one after another is not the procedure but an
omen to such government.You may say this looks like one of those old
stories but i will advise you not to ignore it.
Yours Sincerely,
Mrs Veronica Brown
---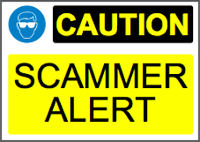 Scam alert! The E-mail above is a SCAM. It's a Nigerian scam, the story and all names & roles are fake. The scammers will most likely ask you for money upfront as 'costs' before you get the 'funds' (which you will never get offcourse).
If you've received this by e-mail than mark it as SPAM (if possible) and/or DELETE it.