| | |
| --- | --- |
| Subject: | Notification from FEDERAL RESERVE |
| From:   | Mr. Harry Schaefer <harry@federalreserve.gov> |
| Date:   | 2018-05-05 |
| To:   | your@email.address |
| Reply-To:   | harryschaefer40yahoo.com@cellulant3.sunserver |
Dear Beneficiary,
This notification message is from the Federal Reserve Bank Dallas,Your name is enlisted among the beneficiary whose fund was approved for payment by the Board and Governors of Federal Reserve Bank, and we have been waiting for you to contact us to claim your funds worth $56 Million dollar. To our surprise, one Mrs. Brenda Miller came forward for the fund, that you asked her to claim the fund on your behalf with documentary evidence which we are not sure of it source,this is why we decided to contact you to confirm to us if you actually sent her (Mrs Brenda Miller) to claim your funds.
She said, you instructed her that the fund should be transfer to the below account detail,but because of the name on the account, we have to confirm.
Bank name : Heritage Oaks
Bank Address : 545 Twelfth St, Paso Robles, California 93448
Phone Number: 1(805)239-5200
Account number: 001453521
Routing: 122239982
Swiftcode: HEOAUS61
Beneficiary name: Brenda Miller
Most importantly, confirm to us urgently if you gave permission to Mrs Brenda Miller to claim your fund on your behalf and should in case you did not authorize her, then you will have to stop every communication with impersonators and their cohorts, because they are trying to divert your fund to themselves. She tried so hard to change the fund ownership to her name but permission was not granted until we hear from you.
We await your prompt response,
Harry Schaefer
Federal Reserve System
2200 N Pearl St, Dallas, TX 75201, USA
---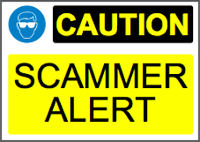 Scam alert! The E-mail above is a SCAM. It's a Nigerian scam, the story and all names & roles are fake. The real Federal Reserve Bank has nothing to do with this. The scammers will most likely ask you for money upfront as 'costs' before you get the 'funds' (which you will never get offcourse).
If you've received this by e-mail than mark it as SPAM (if possible) and/or DELETE it.