| | |
| --- | --- |
| Subject: | Re: OUR OFFER |
| From:   | Martin Jones <noreply@bmcs.com> |
| Date:   | 2018-04-24 |
| To:   | your@email.address |
| Reply-To:   | mssharonmb@onet.pl |
Attn:
I am making this contact from FINANCIAL MANAGEMENT ADVISORY
SERVICES LIMITED, an Investment and Wealth Management
Establishment here in the ISLE OF MAN, United Kingdom.
I do have the mandate of a PRIVATE client with embattled
political background to seek for individuals with Financial
Management know-hows to handle the investment and management of
over US$900M under strict anonymity.
If you have fund management abilities, credible projects in need
of funding or existing businesses requiring expansion, we would
be delighted to work with you.
Sincerely,
Martin Jones
Managing Partner
FINANCIAL MANAGEMENT ADVISORY SERVICES LIMITED
---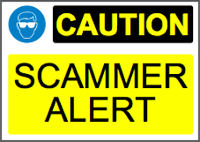 Scam alert! The E-mail above is a SCAM. It's a Nigerian scam, the story and all names & roles are fake. The scammers will most likely ask you for money upfront as 'costs' before you get the 'funding' (which you will never get offcourse).
If you've received this by e-mail than mark it as SPAM (if possible) and/or DELETE it.