| | |
| --- | --- |
| Subject: | your@email.address IMMEDIATE RESPONSE |
| From:   | Mrs. Hajia Fatima Younis <ub@al-ayoub.org> |
| Date:   | 2017-10-24 |
| To:   | your@email.address |
| Reply-To:   | hfatimayounes@hotmail.com |
Hi,
I am sending you this MAIL with pains and in sorrow. It is with respect and humility I state the following few lines for your kind consideration since we've never met before, and I know this may come to you as a surprise. I am Mrs. Hajia Fatima Younis, the wife of the slain Libyan rebels' chief of army staff, Late Gen. Abdel Fatah Younis. My purpose of contacting you is to seek your partnership in transferring the sum of $18,000,000.00 USD from my late Husband's account here in Canada to your company account.
This is 100% real and legit. I will like to know from you, Do you have the capacity to handle this transaction? I shall send you detailed mail regarding this claim in my next mail if I receive your positive response.
Best Wishes,
Mrs. Hajia Fatima Younis.
---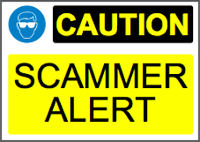 Scam alert! The E-mail above is a SCAM. It's a Nigerian Money scam, the story and all names & roles are fake. The scammers will most likely ask you for money upfront as 'costs' before you get the 'funds' (which you will never get offcourse).
If you've received this by e-mail than mark it as SPAM (if possible) and/or DELETE it.