| | |
| --- | --- |
| Subject: | Hi.PLEASE TREAT WITH LOVE ! |
| From:   | .PLEASE TREAT WITH LOVE <dollyOffice@gmail.com> |
| Date:   | 2018-02-10 |
| To:   | your@email.address |
| Reply-To:   | dollydiego13@gmail.com |
Hello, Good day,
PLEASE TREAT WITH LOVE !
I am very happy i have your email and I will be grateful if you
can give me the chance to perform the act for the release of
$12.1 million United States Dollars to you, Do not be
afraid or surprise on how you will be one of the beneficiary to
receive this funds,I will make it possible so after you receive
the funds,you will take 50% of the $12.1Million,
I am a widow and I am about to go for retirement that is why I
need to do this to have money to take care of my family as my
country is too corrupte and nobody cares about widows, even the
government cannot assist my family in any way and that is why I
am using this good opportunity to help my family through your
contact and there is no risk involved.
Please I want you to take this transaction serious with me and
you have to promise me you will not be greedy to sit on the whole
$12.1Million U S Dollar when it gets to you.
This is more reason I will need to speak with you on phone for us
to work with one mind,
please send your telephone number to me immediately you receive
this email for me to call you and talk to you on this. Do not be
afraid or be surprise on how it will work, I will
make it possible.
Thanks,
Yours sincerely,
Mary Dike
---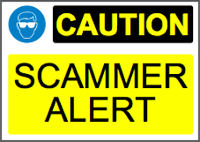 Scam alert! The E-mail above is a SCAM. It's a Nigerian Money scam, the story and all names & roles are fake. The scammers will most likely ask you for money upfront as 'costs' before you get the 'payment' (which you will never get offcourse).
If you've received this by e-mail than mark it as SPAM (if possible) and/or DELETE it.