| | |
| --- | --- |
| Subject: | Enquiry |
| From:   | Hedge Finance Capital Holdings <Commercials@hfc-holdings.com> |
| Date:   | 2016-10-28 |
| To:   | your@email.address |
| Reply-To:   | info@hfc-holdings.com |
Hello,
We have private authorization of our wealthy client in United Arab Emirates to seek for individuals or companies with feasible projects worldwide in need of direct funding.
If you have credible projects let us a have brief description of the nature of project with financial projections because only serious projects will be considered for financing.
Thanks,
Sheakh Faisal Alshatery
Head Corporate Finance
Hedge Finance Capital Holdings Cayman Islands.
Email: info@hfc-holdings.com
Website: www.hfc-holdings.com
---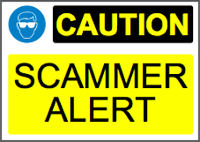 Scam alert! The E-mail above is most likely a SCAM! This message has been spammed to multiple addresses around the globe. The domainname hfc-holdings.com points to a free yelp.com website. The domain owner (see below) is an individual called Daniel Sylvester from Ghana?! They used Yelp.com to create a very simplistic unprofessional 2 pages website (see their website content below). The given address in Cayman Islands leads to an Cayman office of the firm "Walkers Fund Services Limited" but this office has been closed. The telephone number for the Cayman office leads to a number in El Paso, Texas, US. The address in Brussels, Belgium, doesn't add up: it has no valid street number. Etc…
We can only conclude that this is just another Nigerian scam, the story and all names & roles are fake. The scammers will most likely ask you for money upfront as 'costs' before you get the 'funds' (which you will never get offcourse).
If you've received this by e-mail than mark it as SPAM (if possible) and/or DELETE it. Please comment below if you have more information about this scam and/or scammers behind it.
---
Hedge Finance Capital Holdings Website [HOME-PAGE]
About us
Hedge Finance Capital Holdings is part of a Group that was formed many years ago to meet the growing needs of Companies / Clients and Promoters looking for Funding and Professional Assistance in a diversity of Projects.
On the premise that a single firm can combine Funding and Professional Consulting, Hedge Finance Capital Holdings can stimulate optimal performance for its clients. Since then, Hedge Finance Capital Holdings's success has come from its culture, which strives to foster the same values that help any business succeed: Hard Work, Common Sense and Integrity.
Over the years, Hedge Finance Capital Holdings has expanded operations and added services, such as negotiating Mergers and Acquisitions, preparing Business Plans, Viability Reports, and Valuation Reports, executing Due Diligences, and establishing a solid reputation.
Nevertheless, Hedge Finance Capital Holdings has always stayed true to its original vision: providing our middle-market clients the same Tailored Solutions and Funding Packages in International Project Financing by way of Equity Funding and Debt Financing – for existing Companies as well as Start-Ups.
Hedge Finance Capital Holdings has developed close working relationships with groups of Professionals: Specialists in Finance, Commercial Risks Insurance and Re-Insurance, International Accounting Firms and Law Firms, and the largest Valuation Firm in the world.
Those Professionals are Hedge Finance Capital Holdings's "Contacts," those with whom Hedge Finance Capital Holdings works to meet all needs and expectations.
Project Financing
Here at Hedge Finance Capital Holdings, we make sure that our relationships are based on a true spirit of partnership by being supportive and available in good times as well as during the difficult periods.
As such,Hedge Finance Capital Holdings is not just another "me-too" Capital Provider whose interests and contributions stop when the deal is closed. As Principal, Hedge Finance Capital Holdings views each relationship with a Client/Promoter as a long-term investment. As circumstances dictate, Hedge Finance Capital Holdings is very active in Originating, Structuring, Funding and Executing add-on acquisitions and consolidation strategies, bringing partners on board, and Capitalizing on the talents of executives so as to add value to the Projects.
Investment Approach
Hedge Finance Capital Holdings' fundamental philosophy is epitomized by the principle that our word is our bond. This makes Hedge Finance Capital Holdings an ideal partner in these types of relationships. In addition to these attributes, Hedge Finance Capital Holdings is Creative, Solution-Oriented, and known for being the most flexible Funding Source on the Market in creating handcrafted investment structures to meet the needs of the different constituent groups in each individual transaction.
Hedge Finance Capital Holdings is keenly aware of the fact that, in its market, Private Equity investing is, first and foremost, a "people business." For Hedge Finance Capital Holdings it is critically important to choose honorable, talented and compatible people as our partners. Similarly it should be just as important to owners and management teams seeking an equity investor.
Types of Projects That Can Be Funded
As opposed to many Investment Firms, Funders, Bankers, Lenders, or Corporate Investors, Hedge Finance Capital Holdings will NOT refuse a Project based on its "Type."
As a matter of fact, Hedge Capital Finance Holdings will consider any Type of Project that is good, a strong money generator, and represents a reasonable risk.
Our Funding (Equity or Debt) can be used for:
• Project Financing, whether start up or Existing Project
• Asset Based funding
• Bridge Financing (Various type)
• Communications
• Computer related
• Consumer Products
• Cultural Industry Related (Shows and Plays)
• Distributions
• Early Stage Equity Funding
• Electronic Components-Instrumentations
• Energy (Various Type)
• Financial Services
• Hotels Motels, Resorts
• Leverage Buy Out
• Management Buy Out
• Manufacturing (Various type)
• Medical / Health
• Movie Picture Financing
• Publishing (Various type)
• Real Estate Projects (Various)
• Research and Development Equity Funding
• Retail (Various type)
• Seed Capital
• Technology (Various type)
• Waste Management
• Others
• Industrial and Manufacturing Plant, Existing or Start Up.
---
Hedge Finance Capital Holdings Website [CONTACT PAGE]
Hedge Finance Capital Holdings
Head Office
Walkers House 87 Mary Street, George Town,
Cayman Islands
Tel: +1-915-229-3495
E-mail: info@hfc-holdings.com
Website: www.hfc-holdings.com
Europe office address:
LL475 Avenue Louise 1000
Bruxelles-Belgium
Tel: +32-2808-9954
E-mail: info@hfc-holdings.com
Website:www.hfc-holdings.com
Questions & Comments:
Do you have any questions?. Or would you like us to contact you?
Please fill out the form and check the appropriate boxes so we can better serve you. Be sure to "Submit Form" at the bottom of the questionnaire so your information will be transmitted to our office. Thanks for your interest in Hedge Finance Capital Holdings.
Contact Us
Name
Email
Phone
Message
---
HFC-holdings.com [Domainname owner]

Domain Name: HFC-HOLDINGS.COM
Creation Date: 2016-02-05T09:46:00.00Z
Registrar Registration Expiration Date: 2017-02-05T09:46:00.00Z
Registrar: ENOM, INC.
Registry Registrant ID: 
Registrant Name: DANIEL SYLVESTER
Registrant Organization: 
Registrant Street: P. O. BOX KIA16106, ACCRA- GHANA.
Registrant City: ACCRA
Registrant State/Province: 
Registrant Postal Code: 00233
Registrant Country: GH
Registrant Phone: +233.200636244
Registrant Phone Ext: 
Registrant Fax: 
Registrant Fax Ext:
Registrant Email: d14sly@gmail.com