| | |
| --- | --- |
| Subject:   | Acknowledge. |
| From:   | "LUCAS MBEKI" <mbekilumbe2003@aol.com> |
| Date:   | Thu, feb 18, 2010 |
18th Febuary, 2010.
Attention:
My name is Mr. Mbeki Lucas, I am a South African man by birth and resident in Spain. I am a sale and account manager in a financial Consultancy firm here in Madrid.
My Company is mandated to source for reliable investors in the World over to invest available funds in profitable business ventures.
Please, get back to me via my emails below to enable me forward more information to you.
All we need is to ascertain your credibility, resourcefulness and experience.
I earnestly await your response.
Regards,
Mr Mbeki Lucas,
Sales and Account consultant
Edifica Caja de,Avinguda
Madrid, Spain.
Email: lumbeki2000@aol.com
Email: mbekilumbe2003@aol.com
---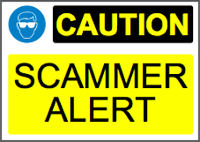 Scam alert! The E-mail above is a SCAM. It's a Nigerian scam, the story and all names & roles are fake. The scammers will ask you for money as 'costs' before you get your 'investment' (which you will never get offcourse).
If you've received this by e-mail than mark it as SPAM (if possible) and/or DELETE it.