| | |
| --- | --- |
| Subject:   | ATTN: GOOD NEWS |
| From:   | "John Cole" <johncole444@hotmail.com> |
| Date:   | Thu, March 11, 2010 |
| To:   | undisclosed-recipients:; |
Attn:
Forgive me for contacting you through this medium, it is because of the urgent nature of this matter. I know that a letter of this magnitude will make anyone apprehensive and worried, but I am assuring you that it is made in good faith and will be of mutual benefit. I am Mr.John Cole the personal account officer to Mr.Mark, a national of your country, who until his death was an oil contractor / consultant with the Ghana oil corporation.
On the 22nd of December 2004 my customer made a numbered time (Fixed) Deposit for Twelve Calendar months, valued at US$6,500,000.00 (Six Million Five Hundred Thousand Dollars) in my branch. Unfortunately, on the 14th of August 2005, 14:22 GMT, my client and his entire family were involved in a fatal auto wreck which unfortunately claimed their lives , none of the occupants of the vehicle survived.
I have since then made several enquiries to your Embassy, in a bid to locate any relation of my client, and these efforts of mine have not been productive. I solicit your consent to enable me produce you as the legal heir to my deceased client, since you both bear the same last name. The funds will then be transferred to you as the beneficiary and shared according to a proposed sharing pattern /ratio of 60:40 i.e. 60% for me and 40% for you
I will provide all the necessary legally obtained documents to back up any claim we make regarding this process, and will just require your understanding and cooperation to enable us achieve success within a legitimate arrangement, eliminating any liability resulting from any breach of the prevalent laws.The Bank where US$6,500,000.00 was lodged has issued a notice to me, unequivocally instructing me to produce the Next of Kin/Beneficiary to the said account within the next ten official working days, or have the account confiscated.
According to financial laws of Republic of Ghana at the expiration of 5 years and 3 weeks the money will revert to the ownership of the Ghana government as unclaimed deposit of a deceased customer. There is no risk because all the documents for this transaction is intact with me, and my position as personal account officer to late Mr. Mark guarantees the successful execution of this transaction.If you are interested in giving the required assistance, kindly reply this mail stating your full name, address and telephone /fax numbers to start the process.
Looking forward to hear from you soon.
Sincerely,
John Cole.
---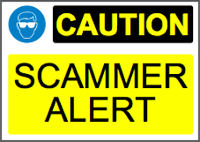 Scam alert! The E-mail above is a SCAM. It's a Nigerian scam, the story and all names & roles are fake. The scammers will ask you for money as 'costs' before you get the 'inheritance' (which you will never get offcourse).
If you've received this by e-mail than mark it as SPAM (if possible) and/or DELETE it.