| | |
| --- | --- |
| Subject:   | Urgent Business Assistance |
| From:   | "Afro Europe Lottery" <afroeuropelottery2@lotto.nl> |
| Date:   | Su, March 7, 2010 |
| To:   | undisclosed-recipients:; |
Dear Sir,
First I must solicit your strictest confidence in this transaction and I pray that my contacting you will be given genuine approval considering the fact that we don't know each other before. I wish to use this opportunity to introduce myself to you. I am Joseph Kamoki Jr, I am writing to inform you of my desire to invest, and to buy a house in your country.
I am the first son of Joseph Kamoki who was the former Diamond Board Director of Sierra-Leone. My father was attacked by the R U F rebels on his way to Lucia a northern part of Sierra-Leone and my father sustained injuries and he died three days later.
Before he died he revealed to me about the two boxes containing $22 Million US Dollars, which he deposited with a security company in Ghana for safe keeping. My father did not disclose the content of the boxes to the security company. To avoid the officials from raising eye brows.
Presently I and my sister are here in Ghana to notify the security company of the claim, and we are staying here as Asylum.
Therefore I want you to lecture me on how best we can invest this money in your country, because my father told me that it is dangerous to invest in Africa to avoid suspicions, and due to market instabilities coupled with economic and political situation facing Africa for your assistance myself and my sister have agreed to offer you 30% of the total amount of the money as your commission.
We have all the vital documents covering the deposit and the ownership which I can send to you.
Note, I have never disclosed this transaction to anybody apart from you. So please keep it very confidential.
Joseph Kamoki Jr.
Tel: +233 24 0488 422
Private email: jkamoki@yahoo.com
---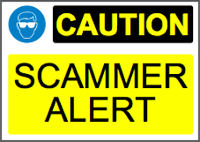 Scam alert! The E-mail above is a SCAM. It's a Nigerian scam, the story and all names & roles are fake. The scammers will ask you for money as 'costs' before you get the 'commission' (which you will never get offcourse).
If you've received this by e-mail than mark it as SPAM (if possible) and/or DELETE it.