| | |
| --- | --- |
| Subject: | Good news..Reply Now |
| From:   | Richard & Angela Maxwell <rmax888@qq.com> |
| Date:   | 2016-11-14 |
| To:   | |
| Reply-To:   | richardmax646@qq.com |
My wife and I won the Euro Millions Lottery of Ј53 Million British Pounds and we have voluntarily decided to donate Ђ1,000,000.00 (One Million EURO) to 5 individuals randomly as part of our own charity project.
To verify our lottery winnings,please see our interview by visiting the web page below:
http://www.telegraph.co.uk/news/newstopics/howaboutthat/11511467/Lincolnshire-couple-win-53m-on-EuroMillions.html
After a computer spinball,your email address was among the 5 random emails which were submitted to us by the Google, Inc as a web user; if you have received our email, kindly send us the below details so that we can transfer your Ђ1,000,000.00 (One Million EURO) in your name or direct our offshore paying bank to effect the transfer of the funds to your designated bank account in your own country.
Full Names:
Mobile No:
Age:
Address:
Occupation:
Send your response to: richardmax66@qq.com
Best Regards,
Richard & Angela Maxwell
---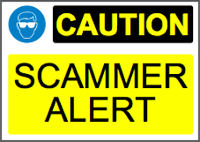 Scam alert! The E-mail above is a SCAM. It's a Nigerian scam. Yes the real Richard and Angela Maxwell won the lottery, but they have nothing to do with this fake message. This story about donations to random people is fake. The scammers will most likely ask you for money upfront as 'costs' before you get the 'funds' (which you will never get offcourse).
If you've received this by e-mail than mark it as SPAM (if possible) and/or DELETE it.