| | |
| --- | --- |
| Subject: | LUCRATIVE INVESTMENT PARTNERSHIP !!!!! |
| From:   | RBM <mervB@almond.ocn.ne.jp> |
| Date:   | 2017-09-28 |
| To:   | |
| Reply-To:   | ayesh0014@yandex.com |
Greetings
I got your contact from a Business Directory in my search for a trustworthy and reliable partner for project investments. I reach you via your email so that we can work together to claim accrued excess funds worth millions of dollars if you are interested in discussing this further.
If that is the case email me for discussion of this matter in detail. I assure you that this project is feasible and I have worked out a perfect plan to make it succesful. I will discuss further details when I am sure of your willingness to do this deal with me.
Looking forward to hearing from you soonest.
Regards
Roy
---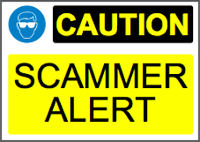 Scam alert! The E-mail above is a SCAM. It's a Nigerian scam, the story and all names & roles are fake. The scammers will most likely ask you for money upfront as 'costs' before you get the 'funds' (which you will never get offcourse).
If you've received this by e-mail than mark it as SPAM (if possible) and/or DELETE it.