| | |
| --- | --- |
| Subject: | DO REPLY BACK THANK YOU |
| From:   | Mrs. Shirley <info@usa.com> |
| Date:   | 2017-09-26 |
| To:   | your@email.address |
| Reply-To:   | majshirleyspencer1@gmail.com |
Hello,
I am major Shirley Spencer leading troops against the Islamic State in Iraq and the Levant (Isis) Al-Qaeda, Afghanistan, Turkey, Syria I urgently in search of a reliable person I can trust to help in this big life-changing deal worth ($2.4 million United States dollars) in cash and nobody gets hurts, as we follow all legal procedures for this success.This is no joke, if you are interested, please get back to me I'll show you all that is related to this transaction. I'll give you more details about the transaction, when I hear from you.
Sincerely,
Shirley Spencer
majshirleyspencer1@gmail.com
---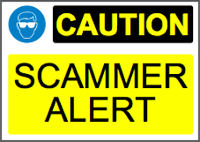 Scam alert! The E-mail above is a SCAM. It's a Nigerian scam, the story and all names & roles are fake. The scammers will most likely ask you for money upfront as 'costs' before you get the 'funds' (which you will never get offcourse).
If you've received this by e-mail than mark it as SPAM (if possible) and/or DELETE it.