| | |
| --- | --- |
| Subject: | News For you !!! |
| From:   | Nancy Viola <seoul7500@smch.co.kr> |
| Date:   | 2017-10-06 |
| To:   | Recipients <seoul7500@smch.co.kr> |
| Reply-To:   | nancyviolafamily@yandex.com |
Good day to you,
Am Nancy Viola, the winner of the $169 Million Mega Millions Jackpot in the January 8, 2016 Mega Millions drawing, My jackpot was a gift from God to me hence my Entire family has AGREED to do this. My Family is donating $1,000,000.00 USD to you.
---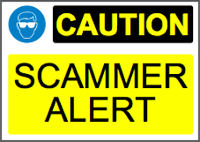 Scam alert! The E-mail above is a SCAM. It's a Nigerian scam, the story and name is real, you can see the real Nancy Viola in the video below, but she has nothing to do with this fake donation scam. The scammers will most likely ask you for money upfront as 'costs' before you get the 'donation' (which you will never get offcourse).
If you've received this by e-mail than mark it as SPAM (if possible) and/or DELETE it.