| | |
| --- | --- |
| Subject: | THIS IS FOR YOUR ATTENTION. |
| From:   | Michael A. Jones <kieunk@nexttel.com.cm> |
| Date:   | 2017-10-23 |
| To:   | |
| Reply-To:   | "jonesmichaela267@gmail.com" <jonesmichaela267@gmail.com> |
Hello,
THIS IS FOR YOUR ATTENTION.
I am a Certified Public Accountant officer in my Bank so also account manager to a deceased customer who was a contractor with a prominent oil company here in Louisiana . On the 21st of April 2010, our customer, his wife and their two children were involved in auto-crash. All occupants of the vehicle unfortunately lost their lives.
Since then,the Board of Directors of my Bank (ORIGIN BANK) have made several inquiries to their embassy to locate any of the deceased customer's extended relations but to no avail. Hence the need to contact you since you share the same family name with him.
I have contacted you to assist in repatriating the money and Property left behind by this deceased customer before they get Confiscated or declared unclaimed by the bank where this Huge deposits of US$10M was lodged.
I look forward to hear from you for further details.
Best regards,
Michael A. Jones
Certified Public Accountant
---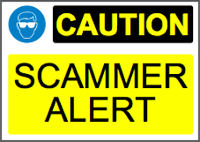 Scam alert! The E-mail above is a SCAM. It's a Nigerian scam, the story and all names & roles are fake. The scammers will most likely ask you for money upfront as 'costs' before you get the 'funds' (which you will never get offcourse).
If you've received this by e-mail than mark it as SPAM (if possible) and/or DELETE it.