| | |
| --- | --- |
| Subject: | VERIFICATION OF YOUR PAYMENT/WINNINGS FILE. |
| From:   | Alex Ugo <info@ukrshops.com.ua> |
| Date:   | 2018-02-28 |
| To:   | |
| Reply-To:   | alex.ugo1878@gmail.com |
MR ALEX UGO
DIRECTOR INTERNATIONAL REMITTANCE DEPARTMENT
CENTRAL BANK OF NIGERIA(CBN)
VERIFICATION OF YOUR PAYMENT/WINNINGS FILE.
DEAR SIR/MADAM
THIS IS TO INFORM YOU THAT FROM THE RECORDS OF OUTSTANDING PAYMENT WITH THE FEDERAL GOVERNMENT OF NIGERIA,YOUR NAME/PARTICULARS WAS DISCOVERED AS NEXT
ON THE LIST OF OUTSTANDING CONTRACTOR/INHERITANCE/LOTTERY WINNER WHO HAVE NOT RECEIVED THEIR PAYMENT.
I WISH TO INFORM YOU THAT YOUR PAYMENT IS BEING PROCESSED FROM THE ABOVE PAN AFRICAN BANK(CENTRAL BANK OF NIGERIA) AND WILL BE RELEASED TO YOU AS SOON AS
YOU RESPOND TO THIS LETTER. ALSO NOTE THAT FROM THE RECORD IN MY FILE, YOU ARE FOUND AS ONE OF THE ABOVE BENEFICIARIES FROM THE ABOVE MENTIONED NATIONS YET
TO RECEIVE OUTSTANDING PAYMENT OF(US$10.5m)
KINDLY RE-CONFIRM TO ME THE FOLLOWING:
1) YOUR FULL NAMES
2) YOUR CONTACT ADDRESS
3) YOUR FULL BANKING PARTICULAR
4) YOUR DIRECT TELEPHONE NUMBER
5) YOUR OCCUPATION
6) YOUR I.D CARD
KINDLY CHOOSE ONE OPTION BELLOW HOW YOU WANT TO RECEIVE THIS PAYMENT
A. AUTOMATED TELLER MACHINE (ATM)
B. DIRECT WIRE TRANSFER TO YOUR NOMINATED BANK ACCOUNT
C. DIPLOMATIC CASH DELIVERY TO YOUR HOME COUNTRY
CONTACT ME AS SOON AS YOU RECEIVE THIS MEMO FOR MORE DETAILS AND DO CALL ME OR SEND ME SMS ON MY PRIVET CELL NUMBER
WAITING TO HEAR YOUR URGENT RESPONSE
MR ALEX UGO
---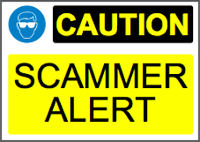 Scam alert! The E-mail above is a SCAM. It's a Nigerian scam, the story and all names & roles are fake. These scammers will ask you for money upfront as 'costs' before you get the 'funds' (which you will never get offcourse).
If you've received this by e-mail than mark it as SPAM (if possible) and/or DELETE it.