| | |
| --- | --- |
| Subject: | Business inquiry |
| From:   | Mr. H.E Ali Shareef Emadi <mralishareefemadi111@gmail.com> |
| Date:   | 2017-09-07 |
| To:   | Me |
Dear Sir/Madam
I am looking for someone who is reliable and trustworthy that will be my business partner. I appreciate if you could share your relevant expertise and notable references.
Contact me on private e-mail address for easier communcation: mralisharefemadi@gmail.com
I look forward to your response and hope that we can do business together.
Best Regards
Mr. H.E Ali Shareef Emadi
E-Mail:mralisharefemadi@gmail.com
---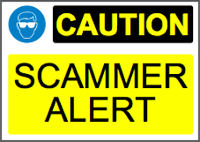 Scam alert! The E-mail above is a SCAM. It's a Nigerian scam, the story and all names & roles are fake. The scammers will ask you for more and more money upfront as 'costs' before you get whatever business deal they are proposing (which will never happen offcourse).
If you've received this by e-mail than mark it as SPAM (if possible) and/or DELETE it.