| | |
| --- | --- |
| Subject:   | URGENT AND YOUR REPLY IS APPRECIATED |
| From:   | "ERIC HOWARD" <erichoward000001@yahoo.com> |
| Date:   | Fri, March 26, 2010 |
| To:   | undisclosed-recipients:; |
MR ERIC HOWARD
SENIOR MANAGER
AUDIT CONTROL UNIT
CITIZENS INT'L BANK PLC
VICTORIA ISLAND
Tel:00234-802-601-5413
LETTER OF MUTUAL UNDERSTANDING
I AM GRATEFUL TO REACH YOU AT LAST AFTER MAKING SO MUCH EFFORT TO INFORM YOU OF YOUR INHERITANCE WITH OUR BANK. FIRST AND FOREMOST, I WILL LIKE TO INTRODUCE MYSELF AS MR ERIC HOWARD.
I AM A BANKER AND AN ACCOUNTANT WITH CITIZENS INT'L BANK NIGERIA PLC. I WAS THE THE ACCOUNT OFFICER TO LATE ENGINEER (SCOTT), A NATIONAL OF YOUR COUNTRY, WHO WAS A CONTRACTOR WITH THE DEPARTMENT OF PETROLEUM RESOURCES VICTORIA ISLAND,LAGOS.
WHO HEREIN AFTER SHALL BE REFERRED TO AS MY CLIENT. ON THE 3OTH OF JANUARY 2000, HE WAS INVOLVED IN THE CRASH OF KENYA AIRWAYS FLIGHT 431 ALONGSIDE HIS WIFE AND THREE CHILDREN. THE PLANE DEPARTED NAIROBI KENYA TO LAGOS ON THE FATEFUL DAY AND ALL THE FAMILY DIED IN THIS FATAL AIR CRASH. SINCE THEN, I HAVE MADE NUMEROUS ATTEMPT TO LOCATE OTHER MEMBERS OF MY CLIENTS FAMILY TO NO AVAIL. I ALSO TRIED THE EMBASSY WITHOUT SUCCESS.
AFTER SEVERAL UNSUCCESSFUL ATTEMPTS, I DECIDED TO TRANCE THE LAST NAME OVER THE INTERNET. THIS IS WHY I CONTACTED YOU. MY REASON FOR CONTACTING YOU IS TO HELP IN REPATRIATING THE MONEY AND PROPERTIES LEFT BEHIND BY MY LATE CLIENT BEFORE IT IS CONFISTICATED BY THE GOVERNMENT OR THE BANK WHERE THIS HUGE MONEY IS LODGED, PARTICULARLY CITIZENS INT'L BANK NIGERIA PLC WHERE THE DECEASED HAD AN ACCOUNT VALUED AT US$12.6M (TWELVE MILLION, SIX HUNDRED THOUSAND US DOLLARS). THE BANK HAS ISSUED ME A NOTICE TO PROVIDE THE NEXT OF KIN OR HAVE THE ACCOUNT ANNULLED WITHIN THE NEXT FIFTEEN WORKING DAYS.
SINCE I HAVE BEEN UNABLE TO LOCATE THE FAMILY MEMBERS FOR THE PAST SEVEN YEARS RUNNING, I SEEK TO PRESENT YOU AS THE NEXT OF KIN TO MY LATE CLIENT SINCE YOU HAVE THE SAME LAST NAME SO THAT THE PROCEED FROM THIS ACCOUNT VALUED AT US$12.6M CAN BE PAID TO YOU. THEN AFTER WE CAN SPLIT THE MONEY 50% EACH AFTER IRS HAS BEEN DEDUCTED.
THE TRANSFER EXPENSES WILL BE SHARED EQUALLY TOO.
ALL I REQUIRE OF YOU NOW IS YOUR HONEST COOPERATION TO ENABLE US SEE THIS DEAL THROUGH. I GUARANTEE THAT THIS TRANSACTION WILL BE EXECUTED UNDER A LEGITIMATE ARRANGEMENT THAT WILL PROTECT YOU AND I FROM ANY BREACH OF THE LAW.
ALSO SEND TO ME YOUR MOST PRIVATE TELEPHONE NUMBER TO ENABLE ME CALL YOU FOR MORE INFORMATION IF THE NEED ARISES.
NOTE: I RECOMMEND YOU SEND YOUR RESPONSE TO MY PRIVATE EMAIL FOR CONFIDENTIAL REASONS AND BECAUSE OF MY POSITION HERE IN THE BANK. (erihoward028@gmail.com)
SINCERELY YOURS,
MR ERIC HOWARD
---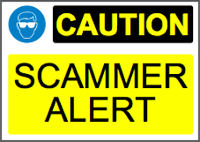 Scam alert! The E-mail above is a SCAM. It's a Nigerian scam, the story and all names & roles are fake. The scammers will ask you for money as 'costs' before you get the 'inheritance' (which you will never get offcourse).
If you've received this by e-mail than mark it as SPAM (if possible) and/or DELETE it.