| | |
| --- | --- |
| Subject: | DEAR BENEFICIARY, |
| From:   | FOREIGN REMITTANCE UNIT. <agonzalez@ciemsamexico.com> |
| Date:   | 2017-10-11 |
| To:   | |
| Reply-To:   | imfunds17@yahoo.com |
INTERNATIONAL MONETARY FUND ON,
FOREIGN REMITTANCE UNIT.
No: 199, 24th Floor,
Levent TR-34394 Istanbul Turkey.
Email:imfunds17@yahoo.com


Attn: Beneficiary,
We are please to inform you that a Power Of Attorney was sent to our office today by one gentle man, He is an American national and his Name is Mr Gerald N. Samaroo, This man claimed to be your next of Kin and your Representative and the POWER OF ATTORNEY that he sent to us here in Turkey stated that you are dead, and that you died of a Throat Cancer two weeks ago, he then brought his account details to replace your information in other to claim your funds worth of (US$4.500,000) Four Million Five Hundred Thousand United States Dollars which is now lying in a dormant account UNCLAIMED with Standard Chartered Bank Turkey, below is the bank details he submitted to claim your funds:


FULL NAME: Gerald N. Samaroo.
OCCUPATION: Retired Accountant
AGE:: 52 Years Married,
Bank Account.City Bank
account # / 6503809428.
Routing / 122006743,
address 1076 peter Johnson Road, largo Florida.


You are therefore given 48hours to confirm the truth to us if you are still alive or dead, but if we dont hear from you within 48hours we will assume you are dead and we will left with no option than to authorize the Standard Chartered Bank to process the payment to Mr. Gerald your next of Kin, we work 24hrs and our duty is to ensure that we monitor all the activities going on in regards to the transfer of all Foreign Inheritance payment and contract payment.
You are advised to call this branch office or you email us for clarifications on this matter as we shall be available 24hrs to speak with you or respond back to your email and give you the necessary guidelines on how to claim your funds immediately without any hitch, also note that any further delay from your side can be dangerous, as we will not be held responsible for any wrong payment.
Here is the information you are required to send to us via email for us to check up with the data's we have in our central computer, and upon your confirmation to us with a prove that you are still alive will empower us to embark on a legal action against (Mr. Gerald N. Samaroo) and we will arrest him and charge him to Court for Assault/Force Information and Criminal Act, and he must be jailed.


Kindly provide the below details as directed to prove to us that you are alive and not dead.


(1) Full Name:…
(2) Country:…
(3) Home Address:….
(4) Occupation:…..
(5) Sex:…..
(6) AGE…..
(7) Tel:…..
(8) A Cope of Your Passport / DRIVERS LICENSES…


As soon as you provide the information above, we will direct you on how to send the FILE to the Standard Chartered Bank for endorsement and due process on your fund transfer.


Thank You.


Mr. David Julius.
Senior Representative Officer/Payment Audit,
International Monetary Funds,
Office Istanbul Turkey.
---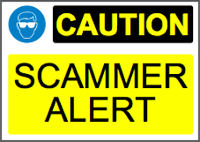 Scam alert! The E-mail above is a SCAM. It's a Nigerian Money scam, the story and all names & roles are fake. The scammers will most likely ask you for money upfront as 'costs' before you get the 'funds' (which you will never get offcourse).
If you've received this by e-mail than mark it as SPAM (if possible) and/or DELETE it.