| | |
| --- | --- |
| Subject: | From Mr Hamid,Your Kindest Reply Needed. |
| From:   | Mr.Hamid Khanifa. <fax@aisproyec.com> |
| Date:   | Mon, 23 Jul 2018 |
| To:   | Me <fax@aisproyec.com> |
| Reply-To:   | icfc1.cs@outlook.com |
This is HTML source of message you composed. Do not modify here. To modify this message press HTML Messages Editor button.
Hi, how are you doing over there? My name is Mr. Hamid Khanifa, I am a Middle East based expert in International Business, International Trade Compliance and loan facilitator. Please would you mind giving me little attention?
I have a very good business proposal right on my table to discuss with you, is of mutual benefit and its success is entirely based on mutual trust and cooperation. I will greatly appreciate it if you can respond at your earliest convenience.
Regards,
Mr.Hamid Khanifa.
---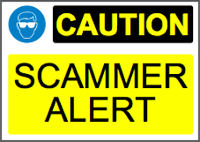 Scam alert! The E-mail above is a SCAM. It's a Nigerian scam, the story and all names & roles are fake. The scammers will most likely ask you for money upfront as 'costs' before you get any 'funds' from business deals (which you will never get offcourse).
If you've received this by e-mail than mark it as SPAM (if possible) and/or DELETE it.