| | |
| --- | --- |
| Subject: | Updates… |
| From:   | Mr John Mark <postmaster@krypt.com> |
| Date:   | 2016-10-27 |
| To:   | Recipients <postmaster@krypt.com> |
| Reply-To:   | jmorgan76@onet.eu |
Dear friend ,
I am very happy to inform you about my success in getting that fund now; i want you to contact my secretary ,ask her to send you the total sum of $850.000.00 USD eight hundred and fifty thousand us dollars in a bank draft, which i kept for your compensation.
Contact Mrs. Joy Morgan on her email jmorgan76@onet.eu with the below information.
1. Full names.
2. Full contact delivery address.
3. E-mail address.
3. Telephone number.
3. Country.
4. Your international passport or id card.
Still remain your bosom friend.
Yours faithfully
Johnson mark
---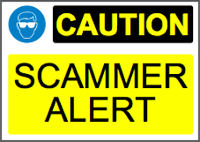 Scam alert! The E-mail above is a SCAM. It's a Nigerian scam, the story and all names & roles are fake. The scammers will most likely ask you for money upfront as 'costs' before you get the 'funds' (which you will never get offcourse).
If you've received this by e-mail than mark it as SPAM (if possible) and/or DELETE it.