| | |
| --- | --- |
| Subject:   | Date: SUNDAY MARCH 14 |
| From:   | "Mr. KEVIN OSU" <chibuzo@mcom.com> |
| Date:   | Su, March 14, 2010 |
| To:   | undisclosed-recipients:; |
Hi,
I am Kevin Osu presently working with ICB. Please do not be embarrass am seeking your help in order to receive the sum of 3.5million as result of surfeit profit we made. If you will be so kind enough to grant me the permission, I will be glad to give the details. I am ready to offer you 50% of the total amount for your input.
If you are interested response to zakevosu@aim.com
Regards
Kevin Osu.
---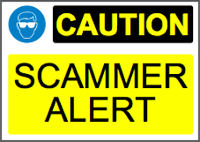 Scam alert! The E-mail above is a SCAM. It's a Nigerian scam, the story and all names & roles are fake. The scammers will ask you for money as 'costs' before you get your cut of the 'funds' (which you will never get offcourse).
If you've received this by e-mail than mark it as SPAM (if possible) and/or DELETE it.