| | |
| --- | --- |
| From:   | "Mr.Martins Jones Esq" <edilaine@unb.br> |
| Date:   | Wed, April 21, 2010 |
| To:   | undisclosed-recipients:; |
Sequel to your non response of our earlier letter to you on behalf of the Trustees & Executors to the Will of our late client.I wish to notify you that you were listed as a heir to the sum of 4,500,000.00 Euro(Four million Five Hundred Thousand Euros).We therefore reckoned that you can receive this funds as you are qualified by your name identity.We request that you kindly foward to us your immediate response for more details on claiming the inheritance.
Mr.Martins Jones Esq.
---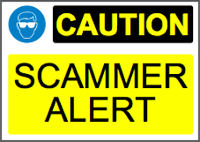 Scam alert! The E-mail above is a SCAM. It's a Nigerian scam, the story and all names & roles are fake. The scammers will ask you for money as 'costs' before you get the 'inheritance' (which you will never get offcourse).
If you've received this by e-mail than mark it as SPAM (if possible) and/or DELETE it.