| | |
| --- | --- |
| Subject: | Re: Investment/Loan offer… |
| From:   | Mr. Moh Ali <todd.jw@outlook.com> |
| Date:   | Tue, 5 Feb 2019 |
| To:   | |
| Reply-To:   | albarqpr@emirates.net.ae |
Hello
How are you doing today and your family? My name is Mr. Mohammad Ali a UAE cetizen living in London, United Kingdom, and I have a lucrative Loan/Investment business proposal to discuss with you which is very urgent, Are you in need of project finance for your companies, businesses and organizations?
I am ready to funding your multimillion dollars extremely wide variety of projects including real estate, amusement parks, eco and green projects, golf courses, hotels and hotel resorts, manufacturing, residential housing, tourism and tourist projects, water parks and many other types of project.
please contact me immediately if you are interested, funds are in USA ready to be invested only with suitable business plan from company or credible individual.
I wait to hear from you soonest.
Best Regards
Mohammad Ali Falamarzi
Tel: +442036950371
Email: albarqpr@emirates.net.ae
---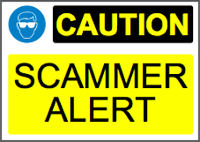 Scam alert! The E-mail above is a SCAM. It's a Nigerian scam, the story and all names & roles are fake. The scammers will most likely ask you for money upfront as 'costs' before you get any 'funds' from investments (which you will never get offcourse).
If you've received this by e-mail than mark it as SPAM (if possible) and/or DELETE it.