| | |
| --- | --- |
| Subject: | Please Treat As Utmost Urgency |
| From:   | Sadiq Gadaffi <sadiqgadaffi8@gmail.com> |
| Date:   | 2016-11-09 |
| To:   | |
| Reply-To:   | sadiqgadaffi14@gmail.com |
Hello,
Pardon me for any inconvenience this letter may cost you. I know it may come to you as a surprise as we have no previous correspondence. I got your email while searching for assistance in your country. Are you still reachable at this email? We can actually work together to achieve this highly confidential but very lucrative business deal. For more interesting details about a proposal contact me only on my private email: sadiqgadaffi14@gmail.com
Thanks,
Mr. Sadiq.
---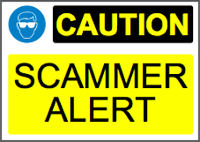 Scam alert! The E-mail above is a SCAM. It's a Nigerian scam, the story and all names & roles are fake. The scammers will most likely ask you for money upfront as 'costs' before you get the 'lucrative business deal' (which you will never get offcourse).
If you've received this by e-mail than mark it as SPAM (if possible) and/or DELETE it.