| | |
| --- | --- |
| Subject: | Re: |
| From:   | Mrs. Alice Walton <eric.mourouvin@evalia.com> |
| Date:   | 2017-12-09 |
| To:   | |
| Reply-To:   | 1949alicewalton@usa.com |
My Dear Beloved, greetings to you! I am Mrs. Alice Walton, a citizen of the United States of America. I bring to you a proposal worth the sum of $14.9 (Million USD) which I intend to use for humanitarian project. I am happy to know you, I have never doubt my instinct as it has never failed me, even as it has directed me to you at this point in time so do not be afraid. I saw your e-mail contact at the department of commerce and foreign trade. I am writing this e-mail to you with heavy sorrow in my heart, it is painful to let you know that I have been suffering from a rare heart disease for the past 7 years and just few weeks ago my doctor told me that I won't survive the illness. I am contacting you because I don't have any other option than to tell you as I was touched to open up to you about my project at hand. Please get back to me with your personal information so I can provide you with further details.
Stay Blessed
Mrs. Alice Walton
---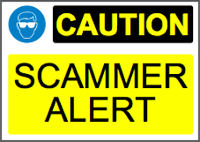 Scam alert! The E-mail above is a SCAM. It's a Nigerian scam, the story and all names & roles are fake. The scammers will most likely ask you for money upfront as 'costs' before you get any 'funds' (which you will never get offcourse).
If you've received this by e-mail than mark it as SPAM (if possible) and/or DELETE it.